Technical standards of interoperability Electronic document and Electronic file del Esquema Nacional de Interoperabilidad definen esquemas XML (XSD) como herramienta para la interoperabilidad en el intercambio de documentos y expedientes electrónicos.
The structure to apply for the exchange of electronic documents is generally a XML file containing the three components of the electronic identified, namely:
Fichero de contenido: que alberga el fichero que contiene los datos o contenido del documento. Para su inclusión en la estructura XML, estos ficheros se codifican normalmente en base64 .
Bloque de metadatos: en el que siguiendo el esquema XML correspondiente, se integran los metadatos definidos como mínimos obligatorios asociados al fichero de contenido anterior, salvo 'Valor CSV', y 'Regulación generación CSV' que se integrarán en el elemento de firma.
Signing/s: whether electronic signatures based on certificates and/or CSV file associated with the contents of the document, as well as the metadata of the signature.
El diseño completo del esquema ENI está compuesto por 8 XSDs implementados a medida y un XSD externo vinculado (xmldsig-core-schema.xsd) de la especificación XMLDSig que se emplea en las firmas de tipo XAdES.
This model of the ENI XSDs remains a modular design that fosters reuse and interoperability with other existing schemes.
In the implementation, can distinguish two types of modules:
Módulo estructural: que define una estructura destinada a ordenar y contener otros módulos.
Módulo de contenido: que alberga el contenido final del componente descrito.
In this way, the modules can in some cases contain other (structural modules) or be included within other (modules of content and structural).
A complete list of the XSDs designed to meet the needs of the ENI is included in the following table: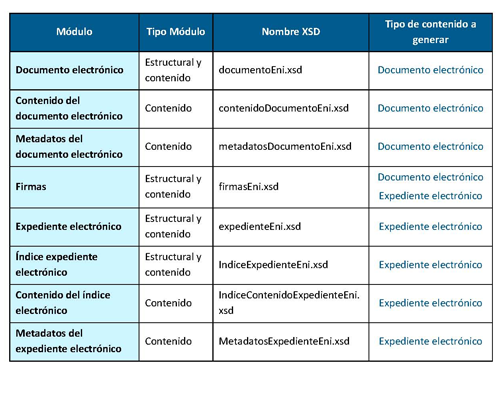 Relations between the different modules that make up the pattern are displayed in the figure below: