Tracker Observatory of Web Accessibility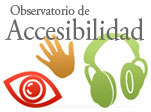 Short Name:

oaw

Summary:

Engine used by the Observatory of Web Accessibility to perform the regular iterations Observatory and offer diagnosis online for public administrations.

Target audience:

Any Public Administration

Agencies Responsible:

Political ministry Territorial and Public Function
Secretariat of state of Public Function
General Secretariat of Digital Administration

Usage:

Installable product
Service in network to end user

Contact:

observ.accesibilidad@correo.gob.es

Type of Solution:

Open source application

Status of the Solution:

Production

Organic Area:

State

Technical Area:

Websites, electronic headquarters and attention to the citizen

Functional Area:

Government and the public Sector

License:

EUPL (European Public License)

Interoperability level:

Technical

Programming language:

HTML, JSP, Web services, XML

Description

The Tracker OAW is the tool that allows you to carry out the various iterations of the Web accessibility observatory (OAW) and the use of diagnostic service available online through the Accessibility community .

The Tracker OAW allows you to check the accessibility of a website and generate automatic reports from the almost 100 checks implemented in the platform, in addition to make recommendations on how to solve the problems detected.

The revision of accessibility of studies of the OAW is done via an automatic methodology based on the standard UNE 139803:2012 (WCAG 2.0) developed specifically for the Observatory of Web accessibility. This methodology takes into account only 20 accessibility checks. Each verification consisted of several checks automatically. To include some revision checks usually manual through specialized metrics.

For the realization of an Observatory iteration of will need to indicate on the system:

Cada una de las semillas (portales) sobre los cuáles se va a realizar el análisis especificando: la URL de partida, si la selección de páginas se realiza aleatoriamente o especificando páginas concretas, el segmento (grupo) al cuál pertenece el portal y su dependencia orgánica.
Few pages will be analyzed to each portal.
The Area on which is the analysis (AGE, REGIONAL GOVERNMENTS and EELL).
The specific type of analysis to perform, for example WCAG 1.0 and WCAG 2.0.
When you start the analysis.

During the execution of the iteration the tracker will:

Visitar cada uno de los portales configurados y realizar la selección de páginas.
Sobre cada página seleccionada realizará las casi 100 revisiones de accesibilidad definidas en la metodología.
Dejará almacenada la información analizada y los resultados alcanzados. Permitirá la extracción de esta información a ficheros resumen de resultados en formato XML (procesables mediante herramientas de hojas de cálculo) con la información resumen de los portales y de cada una de las páginas analizadas.
Automatically generate the following reports:

Report added. Overall results that are used to estimate the overall situation of the state of accessibility in the portals constituting this action area.
Informe individual. Informe completo para cada portal analizado con información detallada de los resultados.

Además de las iteraciones periódicas, el rastreador OAW es usado por el diagnostic service online available in the community Accessibility and that allows you to get an estimate, on demand, what results in an official iteration. Also facilitates the future correction and collation of the possible errors in the portal. Reports from diagnostic service online are similar to the individual reports of a iteration but include details of all errors located in this portal with their corresponding suggestions for improvement.

This tool is offered as free software for possible reuse by other states or institutions for periodic reviews of accessibility as required, e.g. Directiva de Accesibilidad de Sitios Web y Aplicaciones Móviles del Sector Público . The Public Sector English has at its disposal the free use of diagnostic Service online Accessibility community still need Only register in it.