Starts the mandatory application of the law of electronic invoice
15 January 2015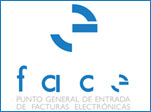 Public administrations and vendors have to handle since today, 15 January invoices electronically.
15 January 2015.- all public administrations have to receive from today obligingly invoices of its suppliers electronically, according to the law of momentum electronic billing and creation of the recording.
Only may be excluded from the obligation invoices with amount less than €5,000 and services abroad.
All invoices of suppliers of the AAPP will be automatically registered and both public administrations as suppliers may follow the same banishing the possibility to hide invoices.
 
Only in the General administration of the state, the electronic processing will save the year 51 billion and EUR 2.3 million more to stop processing on paper.
 
Public Administrations will have a greater accounting control of invoices, which will allow a better performance of payment periods, greater control of public spending and deficit, as well as deepen in the fight against fraud.
Historic change in the administration
Esta Ley representa un importante avance en la Administración electrónica y un cambio histórico en la facturación de las Administraciones Públicas españolas. En un período aproximadamente de un año, las AAPP han puesto en funcionamiento sistemas de gestión y seguimiento de su facturación a través de los registros contables para adecuarse a la factura electrónica a través de sus puntos de acceso, lo que representa un esfuerzo importante por el cambio radical de un sistema de papel a otro íntegramente electrónico.
The General Administration of the state, moreover, has made a double effort, on the one hand, adapt all its systems to the electronic invoice and, on the other hand, provide a general point of entry for electronic invoices also adapted to incorporate all territorial authorities. These, could create their own point of access or use the General Administration of the state has made available to facilitate their work and considerable savings in investment.
The General Administration of the state, moreover, has had its entry point invoices electronically operate from 15 January 2014, a year earlier, where you have received electronic invoices of suppliers, voluntarily, since the first quarter of this year.
Accessions to FACe
El Punto de Entrada de Facturas electrónicas (FACe) de la Administración General del Estado, tiene integrados hoy los distintos puntos de tramitación de los ministerios. Además, se han adherido a su utilización, las CCAA de Asturias, Región de Murcia, Illes Balears, Extremadura, Comunidad Foral de Navarra, Ciudad Autónoma de Melilla, Cataluña, Andalucía, Canarias, Cantabria, Comunitat Valenciana, Aragón y Castilla-La Mancha.
Other REGIONAL GOVERNMENTS, Rioja, Catillano and lion, Galicia and Basque Country, not acceded to FACe, but have provided an access point of entry of electronic invoices, and some cases it is exploring the possibility of information exchange between these points and FACe.
Regarding EELL, have adhered to FACe this figure included 5,177 families and 17 universities.
Savings electronic billing
Estimated annual savings, only to the General administration of the state, by switching to electronic processing of invoices, amount to $51 billion euros and 2.3 million euros savings on paper.
The savings by invoice are calculated for suppliers of goods and services of public administrations in 0,70 €, from a cost €0.76 role at a cost of €0.06 electronic.
Public Administrations save at reception 2.78 €, from a cost in role of 2.87 €to a cost in electronic 0.09 €.
In total, each invoice submitted saves 3.75 €.
Late payment
The Law, adopted within the proceedings of the report CORA, allows the eradication of defaults in the public sector, where previous - measures, such as the payment Plan to Suppliers and merits of liquidity Autonómico- has succeeded in reducing commercial debt territorial authorities 70 per cent, as well as the average payment to suppliers, in the Central government and Social security, was already in November in only 9.59 days.
The launch of the extraordinary mechanisms of financing, since 2012, have succeeded in reducing commercial debt of local administrations, it should be noted that over the years have paid more than eight million outstanding invoices to almost 200,000 companies, mainly SMEs and autonomous, which allowed the maintenance of 400,000 jobs and representing an injection of liquidity to territorial administrations exceeding 103 million euros.
Benefits for suppliers and AAPP from today
Enhances the protection of suppliers, to record the date of your invoice, allowing better control of the same. Moreover, it streamlines processing invoices, by incorporating new technologies, facilitating its follow-up for its subsequent payment and for its accounting control.
And, within the public administrations, the internal control Bodies will be accessible at any time to documentation and information of the recording of invoices and develop an annual report assess compliance defaults in.
The accounting records, moreover, refer to the Tax Agency information on invoices received, with the aim of ensuring compliance with tax liabilities and billing. Also, there will be sharing of information between the Tax Agency, Social security and the AAPP, with the aim of strengthening the fight against fraud.

Press release MINHAP (pdf)