Starts the information campaign on electronic invoicing
13 June 2014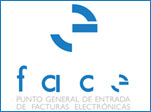 Starting on 15 January 2015, companies should check to the General administration of the state through a single digital platform: FACe. Replacing traditional invoices for electronic implies a savings in time of 80% and 3.48 euros per unit. Local administrations and autonomist free can join the General point of Entry electronic invoices.
Para impulsar esta medida y ayudar a las empresas a estar preparadas, el Gobierno inició el día 12 de junio de 2014 la campaña de difusión sobre factura electrónica, con una sesión informativa en la sede de la Cámara de Comercio de Madrid, a la que han asistido numerosos empresarios de la región. La sesión ha contado con la participación del director general de Red.es, César Miralles; la directora general de Modernización Administrativa, Procedimientos e Impulso de la Administración Electrónica, María Ester Arizmendi, y el presidente de la Comisión de Innovación y Nuevas Tecnologías de la Cámara de Comercio de Madrid, D. Alfonso Carcasona, entre otros.
During the meeting, attendees have had access to various training resources and have been able to understand the operation of General point of entry of Electronic Invoices (FACe). In the past year, suppliers of the General administration of the state (AGE) processed approximately two million invoices. Starting next year, all should go through the FACe, which are also being incorporated numerous local, regional and autonomous. The MINHAP offers the tool for free.
Advantages of electronic invoice
The implantation of electronic invoices offers clear advantages economic and management. On the one hand, are shrinking processing cycles, including the collection and eliminates the costs of paper, printing and mailing, with consequent benefits for the environment. In addition, it provides a faster access and easy to invoices stored, drastically reduces file space that requires storage and improving customer service. Other added benefits are that facilitates the fight against fraud; includes the billing process in the computer systems business, improve their management, and, above all, contributes to the modernisation of the economy and the development of the information society.
In this sense, the Danish government undertook a study in 2003 pre-implantation of electronic invoices, which ruled that It makes possible an 80% reduction in processing times. In the case of paper, each invoice implies a working time of 17 minutes, while the electronic format reduces the period only 3 minutes, and that in case the process has not been automated. The savings by electronic invoices, as defined in the Plan MOVES, are also considerable and can be estimated at 3.48 euros per unit. Are distributed in 0.70 euros for the issuer 2.78 and receiving administration.
FACe, the single point of invoicing
Todas las facturas que se presenten a la AGE se tramitarán únicamente a través del Punto General de Entrada de Facturas Electrónicas (FACe), una plataforma 'online' que permite presentar cargos ante cualquier órgano estatal y ante las múltiples administraciones regionales y locales que se están adhiriendo a este sistema.
Además del envío, la plataforma digital permite a las empresas consultar el estado de sus facturas, localizar los códigos de identificación del organismo receptor, obtener ayuda y descargar el programa informático gratuito que facilita la conexión automática con FACe.
Information campaign of electronic invoice for companies
The launch of the General Point of entry for Electronic Invoices is accompanied by a publicity campaign that, besides other days aimed at companies, will involve the distribution of leaflets of FACe by different points of the country, as well as the dissemination of a video tutorial and an informative video on electronic invoice.

More information:
http://administracionelectronica.gob.es/pae_Home/pae_Estrategias/Racionaliza_y_Comparte/soluciones_cloud/FACe.html
http://administracionelectronica.gob.es/ctt/face
http://www.face.gob.es

http://www.facturae.gob.es

Electronic services

Common infrastructure and services

Company

Technology transfer centre