FACe adapts to accept European billing
06 February 2019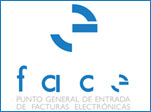 FACe incorporates the formats UBL 2.1 and CII (Cross Industry Invoice) for the implementation of the directive 2014 / 55 / HAT.
The Directive 2014 / 55 / HAT of 16 April 2014

concerning electronic billing in public procurement requires the definition of a common European standard for electronic invoicing semantic level, and products additional standardization that will improve interoperability in the level of syntax.

Esta directiva europea implica adoptar medidas que requieran que los poderes adjudicadores y las entidades que están dentro del alcance de la misma puedan recibir y procesar facturas electrónicas que cumplan con la norma europea (EN16931) en la factura electrónica antes del 18 de abril de 2019.

Front , collaborating with other governments and the private sector in the project CEF EUROFACE, has developed the technology needed to admit European bills of different formats to Any format. The European invoice formats admitted shall be UBL 2.1 and CII (Cross Industry Invoice).

Los usuarios de FACe podrán validar y remitir sus facturas en formato europeo como lo han venido haciendo hasta el momento en formato Facturae, pudiendo consultar su estado y evolución sin restricciones. Además, FACe seguirá proporcionando el documento CSV de justificante de la remisión.
For the sake of the integration of administrations and suppliers, has been published in the environment of evidence, a new version of FACe that responds to this need.
You can find more information in the Download area the project in the CTT.
Identity and electronic signature

Citizen

Administrative cooperation