Enabled presentation of invoices EN16931
23 April 2019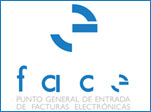 A partir del 18 de abril a través de los canales habituales, los proveedores podrán remitir sus facturas UBL y CII, al igual que hasta ahora han venido haciéndolo con las facturas en formato Facturae.
FACe es el Punto General de Entrada de Facturas de la Administración General del Estado. Permite la remisión de facturas en formato electrónico a aquellos organismos de las administraciones que acepten la recepción de facturas en formato electrónico y que estén previamente dados de alta en el sistema.
En aplicación de la Directiva 2014/55/UE del Parlamento Europeo y del Consejo, de 16 de abril de 2014, relativa a la facturación electrónica en la contratación pública, el sistema FACe habilita la presentación de facturas en formato EN16931 (UBL y CII) a los proveedores de bienes y servicios de las Administraciones Públicas españolas.
Invoices EN16931 format to be submitted through FACe must meet the specified rules in the FACe of CIUS. This CIUS is published in the centre of transfer and Technology, in subparagraph downloads the solution FACe.
 
Technology transfer centre

Common infrastructure and services