Enabled presentation of invoices EN16931
23 April 2019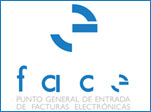 A partir del 18 de abril a través de los canales habituales, los proveedores podrán remitir sus facturas UBL y CII, al igual que hasta ahora han venido haciéndolo con las facturas en formato Facturae.
FACe is the General point of Entry of invoices for the overall management of the state. it allows the transfer of invoices electronically to those agencies accept administrations receiving invoices electronically and who have previously registered in the system.
In application of the directive 2014 / 55 / HAT of the European Parliament and of the board of 16 April 2014 on electronic invoicing in procurement, the system FACe enables invoicing EN16931 format (and UBL CII) to suppliers of goods and services of the Spanish public administrations.
Invoices EN16931 format to be submitted through FACe must meet the specified rules in the FACe of CIUS. This CIUS is published in the centre of transfer and Technology, in subparagraph downloads the solution FACe.
 
Technology transfer centre

Common infrastructure and services