FACe, management of assignment of credit in electronic invoices
01 February 2019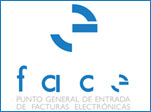 FACe enables within their management systems of the assignment of credit in electronic invoices.
FACe has launched the resources necessary to manage the assignment of credit in electronic invoices. The version of the virtual format that supports the assignment of credit is electronic Virtual 3.2.2, although FACe still admitted, moreover, the versions 3.2 and 3.2.1 of format.
For public administrations can manage the assignment of credit it must be duly filled in (FactoryAssignmentData of the invoice. More information in http://www.facturae.gob.es . This new functionality allows the administration directly from FACe or from its accounting system obtain documentation associated with the assignment before the College of Notaries and that the supplier has indicated in the invoice.
The assignment will be a separate process to download the invoice that public administration which is addressed the invoice will be processed. If the administration admits the assignment will provide access to the status of the invoices the assignee from the moment available on record validation of the notification of the assignment by the legal service, without leaving without access to the assignor, which does not oblige differentiate between credit transfers with consideration factoring with or without recourse.
If the administration does not accept credit assignment the assignor will continue all rights on the invoice and the assignee may not access to it.
More information of integration and use, in user manuals and integration in the download area of Front .
Interoperability

Administrative cooperation

Citizen