El Registro Electrónico de Apoderamiento de la Administración General del Estado permitirá hacer constar las representaciones que los ciudadanos otorguen a terceros para actuar en su nombre de forma electrónica ante la AGE y sus organismo públicos vinculados o dependientes, así como las entidades de otras Administraciones Públicas adheridas.
A grabbing es un poder que los ciudadanos pueden otorgar a terceros para actuar en su nombre.  Los actores de un apoderamiento son:
The citizen/legal entity that acts as principal puede apoderar a cualquier otro ciudadano o persona jurídica para que actúe en su nombre. Cuando el poderdante es una persona jurídica se deberá acreditar la representación legal de la entidad, o el poder suficiente para otorgar los apoderamientos de que se trate. El bastanteo de poderes es la función que realiza la Asesoría Jurídica de la Administración para comprobar que la persona que actúa como representante de la empresa tiene "poder suficiente" para llevar a cabo los apoderamientos que solicita.
The citizen/legal person who acts as proxy puede representar a cualquier otro ciudadano o persona jurídica, al que éste le ha otorgado poderes.
De acuerdo a la Ley 39/2015 de 1 de octubre, del Procedimiento Administrativo Común de las Administraciones Públicas. Los poderes que se inscriben en el registro electrónico de apoderamientos corresponden a alguna de las siguientes tipologías:
Un poder general para cualquier actuación administrativa y ante cualquier Administración.
Un poder para cualquier actuación administrativa ante una Administración u Organismo concreto.
Un poder únicamente para la realización de determinados trámites especificados en el poder.
En el siguiente diagrama de contexto se representan los actores implicados.
For the citizen (natural person or a legal person):
Permite autorizar, de forma telemática, a apoderados para que actúen en su nombre en los trámites electrónicos administrativos.
For the administration:
Facilita el bastanteo de poderes, pues la documentación está digitalizada en el sistema.
Avoids the accumulation of paper.
 El acceso telemático al REA permite realizar las siguientes acciones, previa identificación con certificado digital o DNI electrónico:
As principal:

Crear un apoderamiento sobre un trámite o una categoría de trámites.
Consult their hijacking
Revoke their hijacking
Modify the validity of their representatives
As proxy:
Consult their hijacking
Renounce hijacking
To perform a seizure in REA will these steps: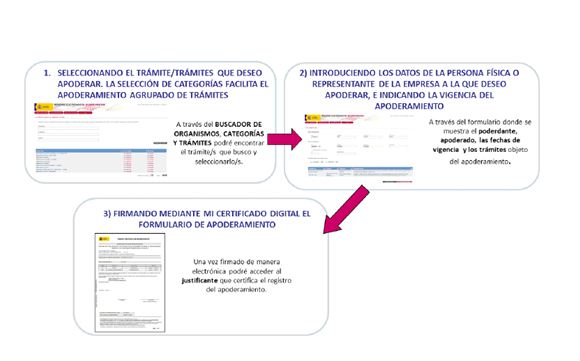 REA registrará la solicitud en el REC (Registro Electrónico Común), realizará el alta del apoderamiento y devolverá al usuario un justificante firmado electrónicamente del registro, indicando, entre otros, el resumen del apoderamiento, el número de registro, y la fecha y hora del alta en el Registro.