Technical standards of interoperability Electronic document and Electronic file del Esquema Nacional de Interoperabilidad definen esquemas XML (XSD) como herramienta para la interoperabilidad en el intercambio de documentos y expedientes electrónicos.
The structure to apply for the exchange of electronic documents is generally a XML file containing the three components of the electronic identified, namely:
File content: which houses the file containing the data or content of the document. For inclusion in the structure XML, these files are encoded normally in base64.
Block of metadata: in which around the outline XML, integrates the metadata defined as mandatory minimum associated with the previous content file, except ' CSV Value, ' and ' Regulation CSV generation ' which will be integrated into the element of signature.
Firma/s: ya sean firmas electrónicas basadas en certificados y/o CSV asociadas al fichero de contenido del documento, así como los metadatos de la firma.
Complete design of the ENI schema consists of 8 XSDs implemented to measure and an external XSD linked (xmldsig-core-schema.xsd) of the specification XMLDSig that is used in the signatures of type XAdES.
Este modelo de XSDs del ENI sigue un diseño modular que favorece su reutilización e interoperabilidad con otros esquemas existentes.
In the implementation, can distinguish two types of modules:
Structural module: which defines a structure to manage and contain other modules.
Content module: which houses the final content of component described.
In this way, the modules can in some cases contain other (structural modules) or be included within other (modules of content and structural).
A complete list of the XSDs designed to meet the needs of the ENI is included in the following table: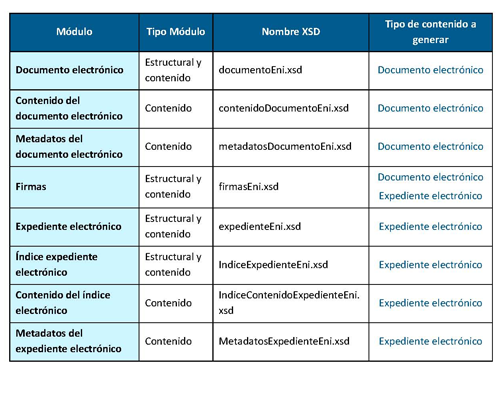 Relations between the different modules that make up the pattern are displayed in the figure below: