Melilla Moves Accessible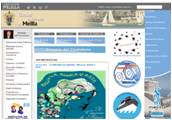 Short Name:

Moves Melilla

Summary:

Actualizar el Portal Municipal al gestor de contenidos LocalWeb de la plataforma Avanza Local Soluciones.

Target audience:

Any Public Administration

Agencies Responsible:

CITY OF MELILLA AUTÓNOMA

Contact:

Catalan Martínez Pablo
D.G. of the information society
dgsi@melilla.es



Type of Solution:

Good Practice

Status of the Solution:

Production

Organic Area:

Autonomic

Technical Area:

Management systems and services

Functional Area:

Government and the public Sector

License:

Not implemented

Interoperability level:

Technical

Description

Starting position and origin of the initiative

La Ciudad Autónoma de Melilla se encuentra inmersa en el camino ya iniciado durante los últimos años hacia la modernización administrativa dentro de la nueva sociedad de la información. Ha evolucionado sobre un modelo de gestión fundamentado en un integrated information system and based on the " Unique identifier " and the guiding principle of the citizen , based on the TIC. for this, has updated its internal management systems and has established new channels of connection with citizens and businesses through eadministración services.

Goals

Update the Municipal Portal

the content management platform LocalWeb Moves Local Solutions.

Evolution of the internal management systems

Registration and management of Population.

Expand the telematic services to citizens

introducing a

electronic system notifications

secure through the platform of mails.

Complete the documentary management system

and implement tools for

reuse of documents

and

electronic file.

Incorporate interoperability services

Verification of residence and Network 060.

Main challenges and key aspects for the implementation
 

The main and virtually only difficulty has been the

training and redesign of procedures.

The project is possible thanks to the

existencia previa de un consolidado e integrado sistema de gestión interno

since the core of corporate applications this very integrated.
It has deployed a

own network of telecommunication based on fibre optics and connections wimax

of interconnection of all the unit that are scattered.
The penetration in the administration of

tools, email and Internet access and Intranet is almost 100%.

The

server virtualization

offers a great versatility in the introduction of new solutions.