Accesibilidad AAA y arquitectura SOA en el portal de empleo de la Xunta de Galicia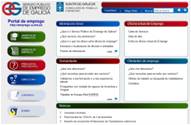 Short Name:

Aempleo

Summary:

Make an approximation to public service jobs de Galicia (SPEG) through the TIC that is fast, easy and as reliable as the attention presencial in relation to all the services provided, with possibilities for customization of service and direct interaction and safe (bases of Web 2.0).

Target audience:

REGIONAL GOVERNMENTS, Citizen

Agencies Responsible:

DE GALICIA AUTÓNOMA COMMUNITY

Contact:

Sea Å Pereira Álvarez
S.X. of modernization and innovation Tecnolóxica
981 54 52 72
sxmit@xunta.es

 

Type of Solution:

Good Practice

Status of the Solution:

Production

Organic Area:

Autonomic

Technical Area:

Electronic processing, support for electronic processing, human resources management

Functional Area:

People and society

License:

Not implemented

Interoperability level:

Technical

Description

Starting position and origin of the initiative

The SPEG had a Job Portal "convencional" , including information about available services and modes of access. This portal failed to meet the levels of accessibility and usability desired, had scarce integration options with other information systems and offered reuse scenarios void of components for new applications. On the other hand, law 11/2007 imposed the need for reflection in relation to the quality and the ability of integration and real participation usuarios-objetivo groups of SPEG through technological media.

Goals

Make a aproximación al Servicio Público de Empleo de Galicia (SPEG) a través de las TIC que sea rápido, sencillo y tan confiable como la atención presencial en relación a todos los servicios prestados, con posibilidades de personalización del servicio y de interacción directa y segura (bases de la Web 2.0).

Main challenges and key aspects for the implementation

Para evitar la desconfianza de los ciudadanos hacia los servicios en Internet se dio especial importancia a la

availability and stability

of service,

speed, consistency of information

contained in the portal and

authentication systems

existing.
In relation to companies offering employment,

Elimination of physical barriers and schedules

permite que se relacionen con el SPEG de una manera más ágil, sencilla y segura.
Algunos de los aspectos clave en el diseño de la arquitectura del portal han sido la

trust

users of the portal services,

security

and

accessibility.